Washed Sand Aggregate has the ability to serve multiple purposes
Sand Aggregate is the smallest aggregate and we CAN HELP TO DETERMINE IF it's THE BEST FIT FOR YOUR PROJECT
BoDean Company has the ability to supply a wide range of aggregate material to fit the needs of various projects. Whether you are a homeowner looking to tackle a backyard project or a large company looking to fulfill your construction needs, BoDean Company will be able to find the right product for your job. Sand is one of the smallest rock aggregate products available and has the ability to serve many purposes.
Sand is a loose granular finer aggregate material. Two common types of sand are naturally occuring sands and manufactured sands, which are produced by crushing larger aggregate into sand. Manufactured washed sands are an essential ingredient for concrete production as it can produce strengths exceeding that of less angular natural alluvial sands.
Manufactured sand is produced in a similar fashion to other aggregates. BoDean's aggregate production begins when a mountainside is drilled and blasted. The rock is then taken to be crushed and screened. In the screening process, all aggregates are sorted into a product category. Sand is one of the smallest types of aggregate material in addition to being screened and sorted, BoDean's sand is washed to remove clay particles, resulting in a clean, durable, well graded sand.
With the capability of mining in two different quarries, the Mark West Quarry and the BoDean Forestville Quarry, BoDean Company is able to offer its customers a variety of sizes and colors of aggregate material. The company's knowledgeable staff can assist in determining if sand aggregate is the right choice for your project.
How Sand is Used
Sand produced at BoDean Company can be used for a wide variety of purposes. Typical uses for BoDean sand include  horse arenas, septic mounds, PG&E bedding, high quality permeable drain systems, masonry, blend sand for pump-ability and finishing, as well as  underneath pavers and synthetic sports fields.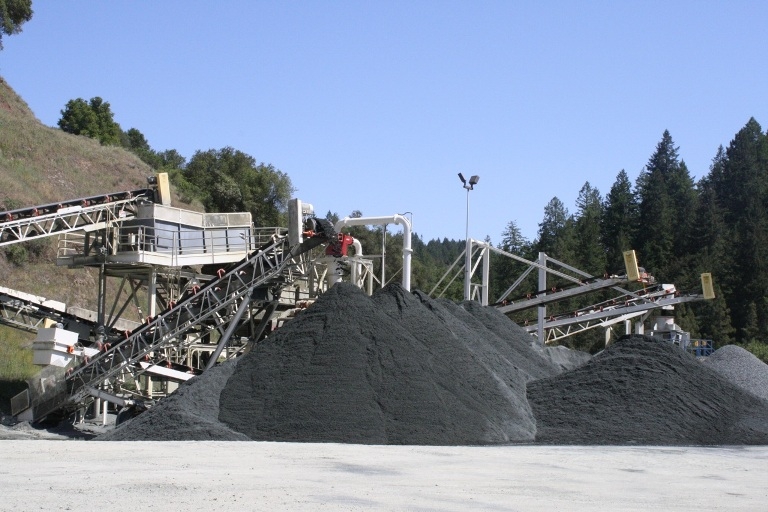 With many functions, sand serves important roles in a variety of projects including:
Horse Arenas – Proper arena footing is vital to the safety and performance of all horses. BoDean Company can provide the correct grade of sand to ensure the footing of a horse arena is exactly as it needs to be for maximum safety and performance benefits.
Septic Mounds – Sand is used in septic mounds to help treat and dispose of domestic waste-water. Ensuring the correct grading is of utmost importance because choosing the incorrect size can cause septic mounds to fail.
Concrete Production – Sand is one of the main ingredients in the production of concrete. Concrete is different from asphalt mainly in that its adhesive is cement.
Asphalt – Sand is also used in the production of asphalt as it is a similar product to concrete. While made of similar materials, the main difference is that the adhesive in asphalt is tar.
Underneath Pavers – Sand is a common choice to be used underneath pavers. The typical homeowner can use sand as a leveling tool and a way to keep pavers in place, while larger paver projects may begin with base rock before applying a thin layer of sand underneath pavers to increase stability and leveling.
Specifications and Environmental Standards
BoDean Company strives to lead a business in which safety and quality are valued and exhibited in daily business. The company is proud to lead a business that is in compliance with all local city, state and government standards. The sand processed at BoDean Company meets all Pacific Gas and Electric (PG&E) specifications. PG&E is widely accepted as the leader in gas and electric on the West Coast. The sand produced at BoDean is deemed to meet the appropriate levels of reactivity by PG&E to be considered safe around conduit.
BoDean Company Sand also meets the specifications for American Society for Testing and Materials (ASTM) C-33 types. ASTM C-33 is considered washed concrete sand or manufactured sand that meets specific ASTM guidelines for concrete aggregates and/or the items that are added into the concrete in order to prepare it for use. C-33 is the particular grading, or size, of the material.
Selecting the Correct Material
Sand can truly serve a variety of purposes for both home and business owners and it is a key tool in almost every construction project. However, choosing the correct product is always the most important step in ensuring a successful project, whatever that may be. At BoDean Company, our extremely knowledgeable team is always ready to assist you with a consultation and to help get you started on the right foot by choosing the best sand or aggregate for your project. Simply call today at (707) 576-8205 to speak with a BoDean Company specialist or click here to request a free online quote.